Aluminium Doors, Chelmsford Essex
Here at Oakland Home Improvements, we offer a selection of aluminium doors in Chelmsford, Essex including patio, French, residential and bi-folding doors.
There are many benefits of having an aluminium door installed, such as highly secure glazing and locking mechanisms, excellent weather protection and multiple colour options.

Aluminium Security
Aluminium is an excellent material and is renowned for being both light and strong. Their excellent strength to weight ratio allows aluminium doors to be exceptionally robust. Your property will be kept incredibly secure thanks to the indestructible nature of aluminium door frames.
Aluminium Energy Efficiency 
Aluminium doors have great energy saving potential. Aluminium doors are often over looked in favour of UPVC but they are just as efficient as their counterparts, and carry a much longer lifespan.
Aluminium Door Frames
If you're looking for a door for a contemporary new build, then aluminium is often the first choice. The frames on our aluminium doors for homes in Chelmsford, Essex have great versatility and can be moulded into a wide range of different styles and configurations. Its slim sight lines ensure for a smooth fit, meaning you won't ever have to suffer from unsightly corners. Aluminium doors will blend effortlessly into your existing property.
Our Range of Aluminium Doors
Oakland Home Improvements are proud to offer a vast range of aluminium doors throughout Essex. Each of our aluminium doors boast phenomenal energy efficiency and security values, complete with an exceptionally long life span.
Patio doors – A fantastic aluminium door which boasts effortless operation, connecting the outside world to your Essex home. The perfect choice for both residential and commercial properties alike, our aluminium patio doors add charisma and practicality wherever they are installed.
Bi-Folding Doors – If not the most sought after aluminium door. These beautiful doors benefit from being able to fold completely into themselves, minimising the space they take up. Superior energy efficiency and security, a real head turner.
French doors – A compact, lightweight design which holds all the security and energy saving values of larger aluminium doors. An attractive cosmopolitan feel highlights our aluminium French doors as one of the most attractive. Like all aluminium doors, the French design has fantastic energy saving and security values.
Residential doors –  Available in a huge range of designs and styles, our aluminium residential door fits is guaranteed to amplify the aesthetics of your Essex property.
Smart Aluminium Doors
Proud to be supplied by Smart for all our aluminium products, they offer a range of aluminium doors for a variety of purposes: architectural, commercial, residential and new build.
Smart aluminium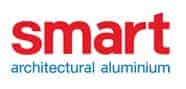 doors are specifically designed to be used as open in or open out, internally or externally beaded for domestic and commercial properties.
Our aluminium doors are available with polyamide thermal barriers or as aluminium/UPVC composite frames for high performance thermal efficiency.
Each door is designed with durability, flexibility, versatility and sustainability in the forefront.
Contact for Aluminium Doors Quote
If you are interested in finding out how little one of our made to measure aluminium doors will cost you, contact us via our online contact form. Our team of highly experienced aluminium door experts will call you back offering further information on our range of aluminium doors, talk you through our installation procedure and give you a quote over the phone. We supply and fit aluminium doors to home owners across Chelmsford, Ongar, Braintree and Doddinghurst.
Once we've received your enquiry, we will endeavour to get back to you immediately regarding aluminium doors and any other questions you may have, and your journey towards a better and even more beautiful home will begin.
Alternatively you can give us a call directly on 01277 365 988, and our expert staff will always be on hand to assist with any questions you may have about aluminium doors in Essex.