Double Glazing Ingatestone
When you are looking for double glazing for your Ingatestone home, at Oakland Home Improvements, we have many options for you to consider. We have provided expert advice for many years and pride ourselves on outstanding customer service that you can rely on. By choosing us, you'll benefit from plenty of experience to create your dream home improvement product.
We offer affordable and competitive double glazing prices that will suit any budget. We have loads of products available which include windows, doors, and conservatories. Our range of doors include both uPVC and bifold doors, while if you are looking for some extra strength, why not consider one of our composite doors as well? There are so many styles and colours that you can go for thanks to our partnership with Ultraframe. You can go for a glass style or even a modern conservatory style. We have something that is the right style for you. All of Ultraframe's styles have the aim of adding as much natural light as possible to your home.
If you are looking for double glazing products that can spice up your home, then look no further than Oakwood. We have something that is right for you and will work very closely with you so you can meet your needs.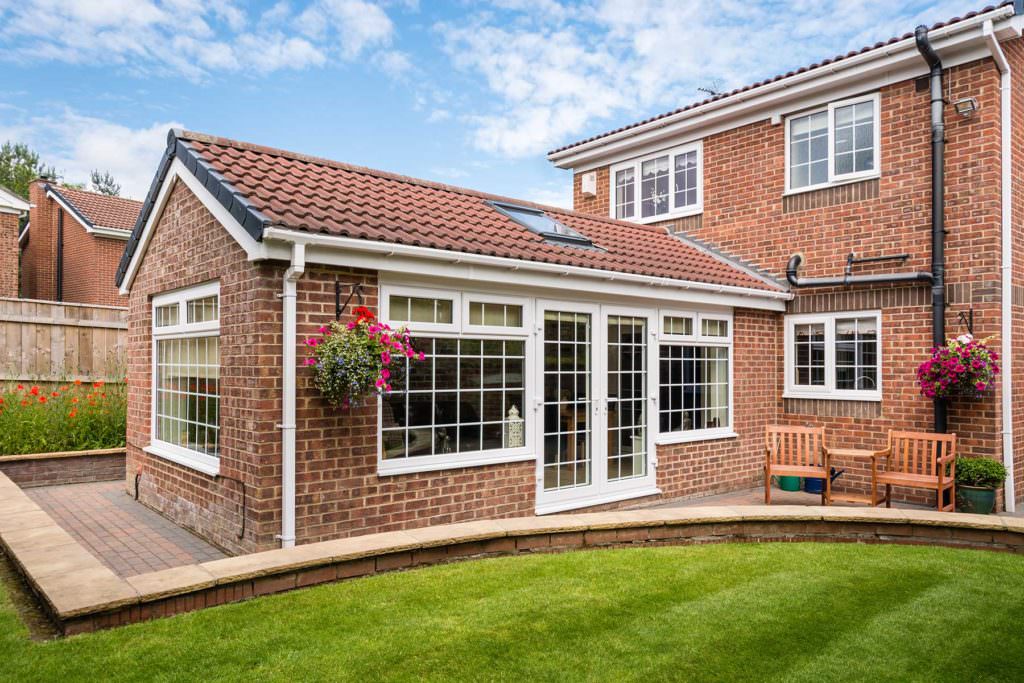 Benefits of our Double Glazing
One of the main advantages that you can benefit from double glazing is that it provides superior noise reduction. In comparison to single glazing, it is very ideal because if you live in a busy neighbourhood or even a loud area, then you can reduce these noises to a whisper and benefit from a much quieter living space. It also works in an internal setting as well because your conversations are kept inside the house as well.
Your brand new double glazing product is also sure to increase your home's property value as well because it will allow your living space to be much warmer in the process. As a result, this will make your home more attractive to potential buyers in the process, so when it comes to selling your home, you will sell it for more than you bought it for.
With thermal efficiency and rising energy prices a concern amongst many Ingatestone homeowners, it has never been more important than now to get double glazing. Your new product will be very thermally efficient because it creates a strong thermal barrier that traps warm heat inside your home. It leaves cold air outside, saving loads of money on your energy bills.
Additionally, it is important that your home is safe to live in. As a result, your new home improvement project will be extra secure. Double glazing is made with two sturdy panes of glass that can handle robust knocks. It ensures that you and your family are kept safe and sound. Additionally, the products are also very weatherproof too which means they can handle some of the worst weather conditions.
We work with industry standard players in the home improvement industry to give you the highest quality products. These include Eurocell, Phoenix Doors and Smarts, so you will get the best equipment that lasts you a very long time.
Windows
When you choose our double glazed windows, you will benefit from many advantages. These include thermal efficiency, security, and weatherproofing which will keep your home very safe.
Our profiles are many and varied. Choose from timber, aluminium, and uPVC. Experience a vast selection of choices and come to a decision that's right for you.
Doors
If you want your home to have a strong presence, choose our double glazing doors. We have lots of different choices for you including our timeless uPVC doors to the strong and sturdy aluminium. Our stunning composite doors offer great performance and advanced security. Also, we install stunning bifold doors that add an extra dimension of luxury to your home. There is something that is out there for you.
If you are looking for an extra living space that brings an abundance of natural light, then look no further than our conservatories. Our conservatories will be able to transform your property very effectively, and with a range of designs, you're not short of options. Choose from our Victorian and Edwardian designs for a classic look, while we also offer the more modern Ultraroof as well.
Double Glazing Prices Ingatestone
When you have considered a suitable option for your double glazing, then you can get in contact with us today. Look at our online quoting engine and get a free bespoke price for your product. You can even design the product from scratch too.
You can also call us on  01277 365 988  today. Our friendly team is sure to help you, while you can even look at our online contact form too. Our professional experts and advisors will be in touch to help you with your upcoming project. We look forward to working with you soon.