Tilt and Turn Windows Essex

Tilt and turn windows are an excellent option for your home in Essex. If you are looking for windows with superb security, which are energy efficient, and a dream to clean then Oakland Home Improvements' tilt and turn windows are the perfect match.
Exceptional functionality, tilt and turn windows can be opened to allow fresh air in whilst at the same time not compromise on the security of your home.
Ideal for larger openings, these windows let ample amounts of natural light to flood in. The larger window panes provide efficient thermal performance.
Energy Efficient Tilt and Turn Windows
UPVC tilt and turn windows are very energy efficient. Their unique design means that they create an air tight seal when closed. This helps to prevent cold air from entering as well as valuable heat from escaping.
Targeting global warming is important. By choosing our tilt and turn windows in Essex homes will be an environmentally friendly move as it will help by reducing the use of natural resources and improving the issues behind global warming, .
It's important to choose replacement windows that are ecologically friendly – from both manufacture to continuous performance.
Our tilt and turn windows are not only lead-free, but also have an 'A' and 'B' energy rating to choose from. Low E double glazed glass units keep the heat in and reduce your heating bills.
Tilt and Turn Benefits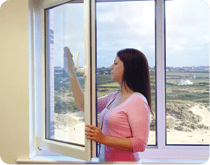 Lower energy consumption thanks to improved heat retention
UPVC windows are low maintenance unlike timber frames
Easy access for cleaning, perfect for upper level windows
Fully recyclable UPVC tilt and turn windows
A dual function window and means of escape
We are certified by and registered with Certass, the industry gold standard for replacement of windows and doors. All of our products come with a 10 year guarantee to give you peace of mind.
Functionality
We are proud to offer multiple functions with Oakland Home Improvements' tilt and turn windows. For starters, their design is transferable across traditional properties and contemporary homes within Essex.
Ventilation is optimised. These windows will open wide allowing for plenty of ventilation and natural light, unlike the equivalent double-hung windows. They are specifically created to keep your home warmer as well as simultaneously reducing exterior sounds.
Tilt and turn windows act as an essential fire escape. The wide side hung opening provides an ample area for an emergency exit.
An excellent option for high-rise apartments or ground floor windows as their multi functioning tilt and turn operation is highly versatile. Easy cleaning of the outside without having to leave the comfort of your apartment thanks to the turn position and increased security for ground level windows situated in the tilt position.
Tilt and Turn Design Options
Add your stamp by choosing the exact design, style and even glass effect for your new tilt and turn windows in Essex.
Our trusted manufacturer Eurocell provide multi chambered frames for additional insulation. They also create slim sightlines for an enhanced outward view.
We offer a colour match guarantee, meaning all our products will be identical. The colour range available includes White, Cream, Rosewood, Rosewood on White, Golden Oak and Golden Oak on White.
Contact Us | Tilt and Turn Window Prices Essex
Contact us for UPVC tilt and turn window prices in Essex. Our helpful staff will provide you with a free, no obligation quote. Call us today on: 01277 365 988.