Double Glazing North Weald
If you are looking for premium double glazing solutions in North Weald, look no further than at Oakland Home Improvements. Installing home improvement solutions to properties in North Weald for the last 30 years, homeowners are sure to benefit from our expertise and quick installation. Let us help you enhance your home in every way possible!
Our dedication to providing our valued customers with a solution to every problem has led us to install a range of different double glazing products. From composite doors to uPVC doors and bifold doors, we offer a range of different back and front doors to suit all needs. We also offer a range of uPVC windows, including a variety of different styles such as traditional casement and sliding sash windows. All of our double glazed windows and doors are designed to function to the highest standards while adding style to your North Weald home.
If you are looking to expand your property, you may be interested in our range of double glazed conservatories. Supplied by Ultraframe, these conservatories are created using the highest grade materials and installed by our expert team. Let create additional space for your family to enjoy all year round. We offer bespoke conservatory styles to suit all needs.
If you have an existing conservatory that is performing poorly, you may be in need of a brand new roof. A new conservatory roof can prevent heat extremes. There is no need to tear your installation down and start again! Give your room a new lease of life. What's more, you can enhance your home's style and performance with our stunning roofline products.
Here at Oakland Home Improvements, our range of double glazing products will add value to your home in every way. Supplied by market leaders and installed with care by our expert team, your new addition will be a worthwhile investment that will keep your home looking stylish and performing well for decades to come. Experience enhanced levels of thermal efficiency, security and weatherproofing! Get in touch with us today and let us assess how our double glazing can improve your property in North Weald.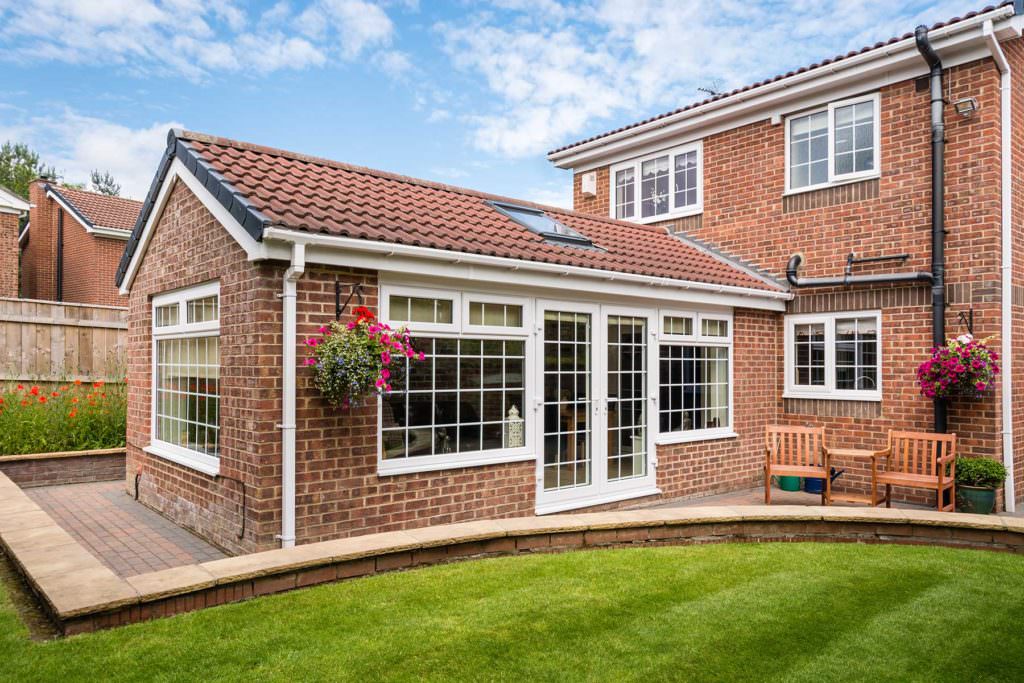 Benefits of our Double Glazing
Our double glazing home improvement solutions for homes in North Weald provides our loyal customers with a range of benefits. Not only do they look good, but your home will benefit from a true improvement.
Make an excellent investment with our double glazed windows, doors and conservatories. Extremely thermally efficient, these products will help your home trap and retain warm air throughout even the coldest of winters. The double glazing features two panels of thick glass separated by a pocket of air. This works to create a thermal barrier, preventing heat transfer out and cold transfer in. Your home will remain a consistent temperature, and you will not experience any draughts. Save money on your heating bill as you use less central heating, and reduce your carbon footprint!
All of our double glazing solutions also work to provide you with noise insulation If you live in a busy area, such as near a school or airport, our products can help keep your home peaceful and quiet. Relax in total comfort.
At Oakland, security is extremely important to us. This is why we make sure that all our double glazing products feature the latest security technology such as multipoint locking mechanisms. This combined with the blend of high quality materials makes for a product that can withstand great force and impact. Create a resilient barrier between your family and the outside world.
Windows
Available in a range of different styles, colours and finishes, our double glazed windows are sure to suit all homes in North Weald. Providing you with a range of benefits thanks to their modern design, you will not have to compromise on style for performance.
Our double glazed windows come in uPVC, aluminium and timber. Our design team would be happy to talk you through the benefits of each and find something that works for your home.
Doors
Create an entrance or exit to remember with our range of double glazed doors. Whether you are looking for something modern or traditional, we have a design for everyone. The choices are endless!
We offer our double glazed doors in uPVC and aluminium. Whether you are looking for bifold doors or patio doors, our team will find the right door for your family.
Conservatories
Working with Ultraframe, we are able to provide our customers with an affordable way to expand their homes. Create extra space that can be enjoyed all year round, whether as a new kitchen, living room or playroom. Our double glazed conservatories are created bespoke to your need and will be designed for practical use.
We also offer stunning double glazed orangeries, which contain a higher percentage of brickwork for those looking for a true extension feel.
Double Glazing Prices North Weald
If you are looking to get your next home improvement project started, we here at Oakland Home Improvements are the perfect choice. With over 30 years of experience, our teams will work hard to add true value to your home.
By using our online quoting engine you can browse our range of products at your leisure and receive prices tailored to your design preferences.
You may also fill out our online contact form or call us directly on 01277 365 988. Our team would be happy to help!