uPVC Windows Epping
Oakland Home Improvements install stunning uPVC windows in Epping and the surrounding areas. We offer uPVC windows in a variety of different styles and with a broad array of different customisation options. As a result, you'll get windows for your home that are tailored to you.
uPVC is the perfect material for the modern window, thanks to its versatility and practicality. It provides homeowners with an array of practical benefits, while also enhancing the visual appeal of their home in Epping. These frames can be constructed to suit modern and traditional homes alike.
We use Eurocell as the designated supplier of our uPVC windows. We believe that they offer a product that is of superior quality compared to the competition. A better standard of uPVC will result in a window that will last much longer without rotting, warping or having any other manufacturing defects.
We also ensure that our window frames are fitted with other high grade components to ensure they perform better and for longer. Our uPVC windows come with reliable locking systems, and the moving components will still operate smoothly long after the windows are fitted.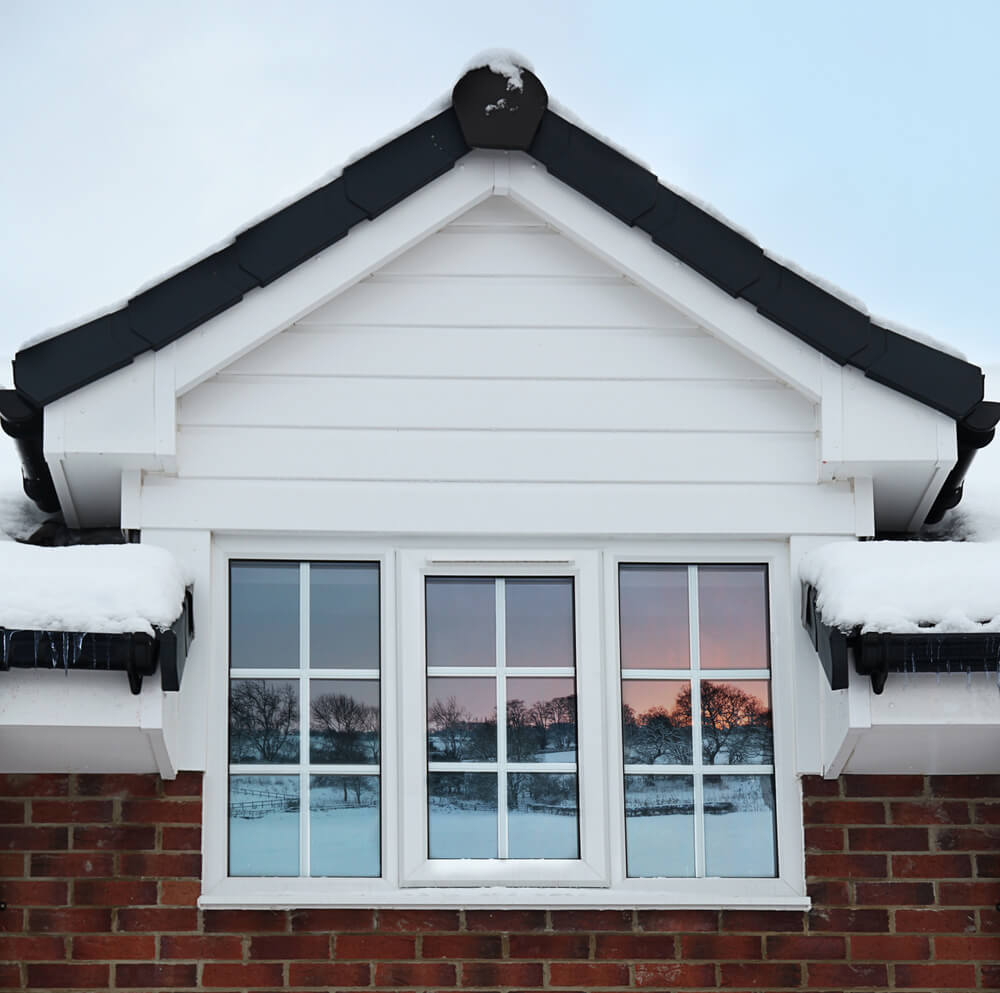 Our Styles of uPVC Windows
Casement Windows
Casement windows are the most common style of frame and have been consistently popular in Epping for many years. In addition to being robust, the casement window comes with a wide array of customisation options. They can be made to be top or bottom hung, as well as coming with a variety of different panel and accessory configurations.
Sliding Sash Windows
A traditional style of window reborn in the modern era, the sliding sash window offers superb aesthetics to older homes. These uPVC windows are made to authentically replicate the sash windows of old, without any of the outdated drawbacks. They are the perfect style of window for a homeowner in Epping looking to renovate a period home.
Tilt & Turn Windows
A modern design that can suit any style of home, the tilt & turn frame is a practical uPVC window. The innovative opening mechanism means that this window can open fully and at different angles, allowing them to double up as a fire escape. This can also provide your home with enhanced ventilation, keeping your home cool during the warmer months.
uPVC Alternatives
In addition to our gorgeous uPVC windows, we also fit alternative windows for our clients in Epping. We install high performance aluminium windows and authentic timber frames as well.
A Long Lasting Window
One of uPVC's best properties is its natural product longevity. On the whole, high quality uPVC windows can each last around 30-40 years if well maintained by the homeowner. By investing in Oakland's market leading window frames, you could be making renovations that could last a generation.
Thermal Performance
uPVC is a great natural insulator. When combined with our superb double glazing, you're left with a window that delivers exceptional thermal performance. Your home will remain warm in winter without the need for excessive heating bills. It'll also remain cool and well ventilated during summer.
Improved Security
As mentioned, we fit our uPVC windows with top of the range locking systems. These locks complement the robust materials that we use, resulting in windows that keep you and your family in Epping safe. You can sleep easy at night knowing that if the worst does happen, you're protected.
Higher Kerb Appeal
Installing new, high quality windows is a great way of improving your home's overall kerb appeal. This makes your home more appealing to potential buyers, in the instance that you look to sell your house in the future. Fitting new uPVC windows could make for a shrewd long term investment.
Excellent Visuals
Available in a wide range of colours, uPVC windows can be constructed to suit just about any style of home. These different finishes can improve your home's visual appeal, making you the envy of all your neighbours. You can choose brighter colours as well as authentic woodgrain finishes.
Sound & Weatherproof
New uPVC windows from Oakland will improve the weather protection and acoustic insulation of your home. You'll be protected from the wind and rain, preventing nasty draughts or water damage. Improved soundproofing will keep unwanted noise out, offering better home privacy.
uPVC Windows Prices Epping
You can use our online quoting engine to get a free estimated cost for your uPVC windows renovations in Epping and throughout Essex. You'll be able to configure a design that fits your needs and get a tailored guide price.
Alternatively, you can leave us your details on our online contact form, and we'll reach out to you with a free quote. For anything more immediate, you can contact Oakland Home Improvements directly by calling us on 01277 365 988. We look forward to hearing from you!