Our Composite Doors gift your Essex home with an impressive entrance, boasting phenomenal security and security values. If you only choose one home improvement this Summer, invest in one of our made to measure composite doors. Here at Oakland Home Improvements we specialise in supplying and fitting unique composite doors throughout Essex. Furthermore, we pride ourselves in complete and utter devotion to customer satisfaction. In this month's blog, we'll look at why composite doors have become one of the most popular choice of front doors throughout Essex.
Allow us to introduce ourselves, we are Oakland Home Improvements; Essex's most celebrated supplier and fitter of composite doors. We offer our quality services to both private residences and commercial services, promising the most competitive prices to both types of clients.
We are a family ran business, with over thirty years' experience within the highly competitive home improvements industry. We often think about how we have managed to last for three decades, and have narrowed it down to a few of our company priorities.
Oakland Home Improvements and Composite Doors in Essex.
Firstly, we commit to giving all of our customers an unforgettable experience. Let's say, hypothetically, you were to invest in one of our beautiful composite doors for your Essex home today; what could you expect?
Before any work goes ahead, we make sure that you are completely and utterly satisfied with the design and appearance of your new composite front door. If not, no worries, our composite doors are incredibly versatile and we will no doubt be able to adapt the appearance to complement the characteristics of your Essex home.
If you decide to invest, we would then agree upon an installation date. When fitting your new composite door, we strive to cause minimal home intrusion to yourself and your families. Furthermore, we only use our own in house team of highly skilled installation engineers – guaranteeing you the same build quality that has led us to become the leading supplier and fitter of composite doors in Essex.
So there you have it. We are the number one supplier and fitter of composite doors in Essex because:
–          Exceptional customer service
–          Most competitive prices
–          In house team of highly trained team of skilled installation engineers
Finally, we are a member of Trading Standards and CERTASS.
About Trading Standards
We are proud members of Trading Standards. The organisation is responsible for ensuring that both customers and businesses understand and adhere to their legal rights and responsibilities. By doing this, our communities can be full of law abiding companies, keeping rogue traders off the streets.  Buy with confidence from a member of Trading Standards.
About CERTASS
Even if you don't choose us for your home improvements, you should always choose a CERTASS approved installer. CERTASS closely monitor all building work of their members, ensuring they meet the high standards set up by the organisation. Membership to this exclusive club is no automatic, and members can be kicked out if they fail to maintain their high level of work.
A couple of weeks after installing your composite door, you'll receive a letter from CERTASS – verifying all of our work is CERTASS approved.
Composite Doors Security
As professional home improvement specialists, it is our duty to provide yourself and your family with maximum levels of security. We provide this security in a couple of ways. To start with, we only use the highest quality stainless steel multi point locking systems. Have total pace of mind that the locks fitted to your composite door are manufactured with the latest anti-bump, anti-drill and anti-snap technology.
We have designed your composite door to be as security conscience as possible. By this we mean, all of our locks and hinges are built into the frame. Our logic is, out of sight out of mind. If potential burglars cannot see the locks and hinges, how would they know which part to target?
All of our composite doors are Secured By Design accredited.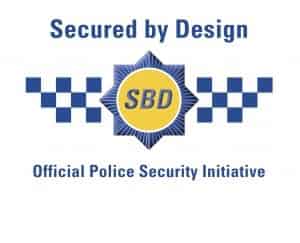 Secured By Design
Secured By Design was established in 1989. Secured By Design is the title given to police projects focusing on design and security for new and refurbished homes. The objective of SBD is to design crime out homes throughout Essex and the remainder of the UK. This is done by making sure that the design is physically strong enough to withstand a reasonable to substantial effort to gain forced entry.
Our entire range of composite doors all carry the police approved Secured By Design stature.
Composite Doors Maintenance
Unlike traditional wooden doors, our composite doors require little to no maintenance to retain their unbeatable energy efficiency and security. Oakland recommend an occasional wash once in a while, just to help your door keep its effortless functionality by removing any grit and dust which has inevitably built up in throughout weather conditions.
Composite doors are built and designed to replicate the appearance of wooden doors. The main difference being that composite doors will not need anywhere near the amount of work that wooden ones will.
For example, if you choose a wooden door you'll have to go through the hardship of reserving an entire weekend to twinge your back out whilst removing the heavy door from its frame. Then there's the joy of treating the wood after a harsh winter, sanding it down and refitting it to the frame – most likely hurting your back again.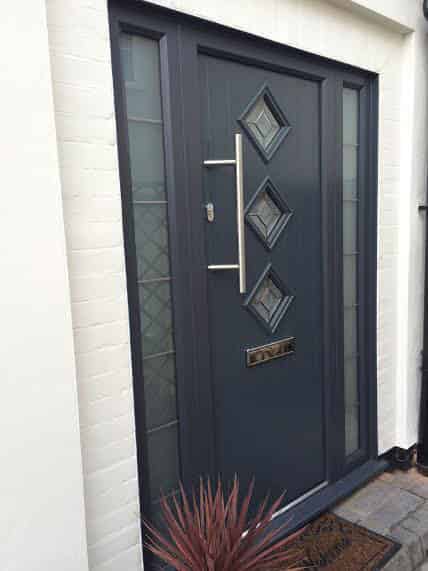 Composite Doors Energy Efficiency
Composite doors are amongst most energy efficient products on the current home improvements. Why? They are triple sealed to minimise the effects of damaging weather conditions like rain, sleet and ice. The doors themselves are exceptionally thick, durable and dense. Furthermore, all of our composite door frames are fitted with a high quality sealant around the perimeter of the door, minimising the amount of heat escaping from your Essex home.
Online Composite Doors Quote
Do you feel that composite doors may be the perfect choice for your Essex home? Obtaining your free, non-obligation quote couldn't be easier. Simply visit the online quote section of our website and fill in the details of the composite door that grabs your attention. You'll receive your unique quote within minutes.
Or, if you'd prefer, why not contact us via our online enquiry form? We'll get back to you at a time which best suits you. We'll give you more information on our range of composite doors, take you through the installation process and can even a generate a free quote over the phone.