Stylish Residential Doors in Braintree
You can create a wonderful fresh appearance for your home in Braintree with stylish uPVC doors. Whether you are looking for a front door, back door or sliding door, there are countless designs available to suit your property.
Modern uPVC doors come with a wealth for benefits and features, making them a great choice for your home improvements in Braintree. You can enjoy better energy efficiency, higher levels of security and a more weatherproof double glazed door.
Replacement double glazing is a cost effective way of creating curb appeal for your Braintree property. It's an efficient and practical solution for improving your home in so many ways.
Read on to find out more about the different uPVC doors that are available to you and the improvements that they could make to your Braintree home.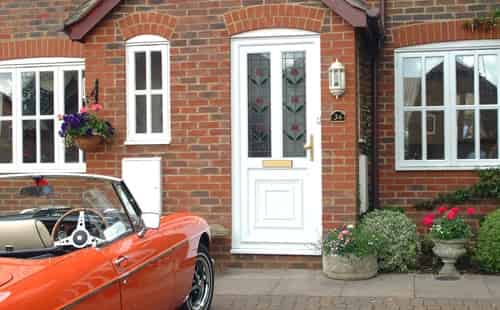 Superb Energy Efficiency
There are so many benefits to replacement double glazing, but one which not only improves your home and lifestyle, but also helps the environment, is energy efficiency.
Our uPVC doors offer fantastic thermal performance, keeping your home warm no matter how cold it is outside. The intelligently engineered uPVC profile combined with quality double glazing, protects your home from draughts and cold air. It also minimises heat loss, keeping warmth within your Braintree property.
You will find that your home stays warmer for longer and that you use less heating. This in turn will help to lower your energy bills and improve your Braintree home's EPC rating. Energy efficiency is great for the environment, as well as your finances, so it's definitely worth investing in high quality uPVC doors.
Protect Your Property
Our range of uPVC doors are high security options for your Braintree home. You can be sure that your property and family are protected against break ins when you choose our replacement double glazing.
Every uPVC door we offer is incredibly robust, utilising internal strengthening technology. This is further enhanced by high security locking systems that are precision engineered and manufactured to the highest standards to offer superb protection.
Our exceptionally secure uPVC doors are designed to truly keep your home and loved ones safe. Security is important to us at Oaklands Home Improvements, so we only install double glazed doors that incorporate cutting edge security features.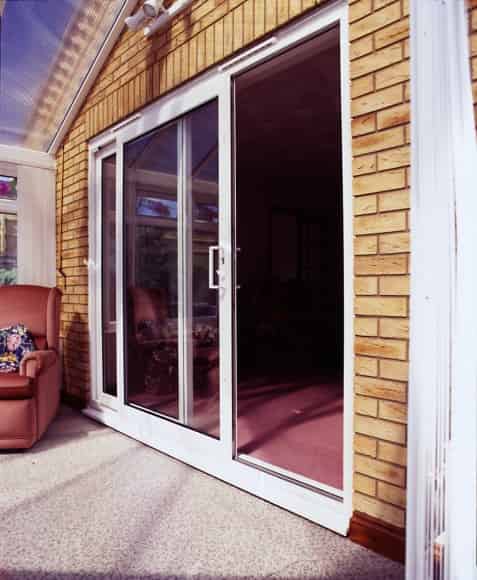 Designed Just For You
You may think that a bespoke uPVC door is an expensive option, but when you choose one of our double glazed doors, you get so many options, your doors will be tailored to suit you.
With a fantastic range of panel designs, you can opt for contemporary or traditional, fully glazed, part-glazed or full panel. You will find the perfect look for your Braintree home, and when you do, there are further choices to be made for more customisation.
We offer a range of uPVC profile colours and finishes so that you can have the right match for your home. Your glazing is also adaptable, with a huge variety of glazing options, including decorative, opaque, misted and more.
Your new uPVC door will be customised to be the perfect match for your tastes and your home.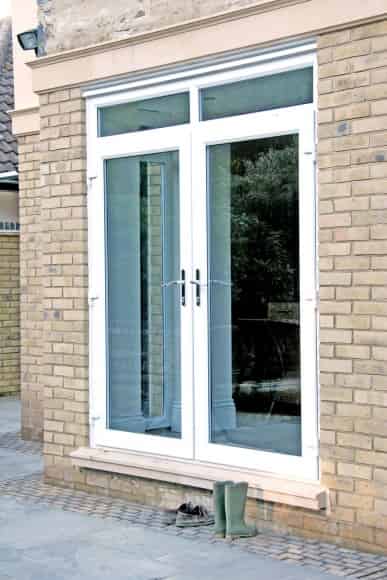 Styles for Any Area of Your Home
Our uPVC doors are not just limited to front doors for your Braintree home. We offer a range of styles for you to choose from so that you can get the exact door you want in any area of your property.
We have given you a brief summary here of each style we offer, however, if you want more information, please take a look at our uPVC doors pages.
Your front door, your back door or your internal doors can be replaced with a uPVC panel door. The range of designs is extensive, enabling you to find the right fit for your home and the quality is unbeatable.
We offer a range of incredibly strong, yet surprisingly lightweight, composite doors to our Braintree customers. These doors are Secured by Design accredited, giving you ultimate confidence in their security performance.
Our uPVC French doors are stylish and elegant, creating a beautiful entrance to your garden. We work with high calibre manufacturers Eurocell to ensure you receive the most outstanding quality when you choose our double glazed French doors.
Create a stunning outlook with our uPVC patio doors. These exceptional double glazed doors will enable natural light to flood into your home, while giving you beautiful views and a high performance sliding door into your garden.

Our uPVC bi-fold doors are exquisite. They are designed to provide a practical and versatile entrance into your garden that also serves as a feature window all year round. They offer smooth operation and a long lasting performance.
Talk to Us!
Start your quote today for competitive uPVC door prices in Braintree! Our online quoting engine is very easy to use, and will give you uPVC door quotes in no time.
If you would like more information on any of our uPVC doors in Braintree, then please contact us, either by phone or by completing our contact form. We have a great team on hand to answer your queries and help you choose the perfect double glazed doors for your Braintree home.